Meet Dr. Jonathan Marshall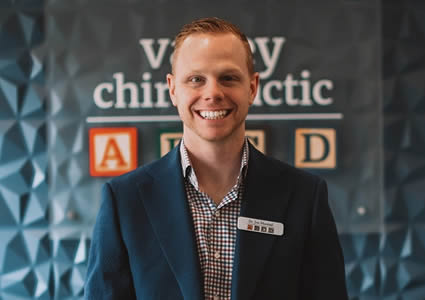 My ultimate goal is to help people. I want to have a lasting impact on my family, community and patients.
Surprisingly, chiropractic wasn't always the path Dr. Jon knew he would take. He had earned an undergraduate degree in history and political science and was working at a music store. Meanwhile, his then-girlfriend, Dr. Emily, was attending Canadian Memorial Chiropractic College (CMCC). Though Dr. Jon enjoyed his work, it wasn't fulfilling him the way he'd hoped that it would.
Dr. Jon decided to apply to CMCC and had his entrance interview on the same day Dr. Emily was due with their daughter. Right after the interview, they welcomed their first baby. The meeting ended up going well, and Dr. Jon was accepted at CMCC to begin his career in chiropractic.
From Toronto to Peace River
After graduation, Dr. Jon joined Dr. Emily in practice at Valley Chiropractic, where she'd been while he finished up his education. The additional qualifications Dr. Jon holds include an Advanced Proficiency Rating in Activator Methods®. This technique is his primary form of treatment at the practice.
People want answers. I want to help them find out what's happening in their bodies and why. You can live life on your terms without feeling stuck.
Outside of Chiropractic
Dr. Jon is the proud father of four. He loves spending time with Dr. Emily and their children. Since moving to our community, Dr. Jon has become passionate about spending time in the great outdoors. He is an elder in his church and is making the most of life in our area.
Get Started Today
Contact our team now to set up your first appointment! Same-day visits are available, and walk-ins are welcome to drop by.
---
Dr. Jonathan Marshall | (780) 624-4434